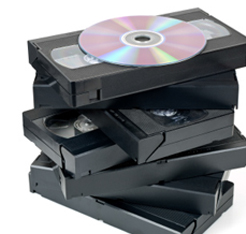 A large number of Minneapolis residents have VHS tapes sitting around the home. The Importance of updating from VHS to DVD format is compounded when the footage is irreplaceable. Precious memories are at risk of being lost due to the outdated technology of these magnetic tapes. Image quality degrades over time and content can be lost if it is not converted to digital. VHS Tape to DVD Conversion at Two Squares, Inc. is the best way to copy and preserve special occasion and wedding videos that cannot be replaced.
Fragile Magnetic VHS Tape Technology
VHS Tapes were very popular in the 1980s and 1990s. You would use a VCR to play back hours of family moments that were recorded onto each tape. However, they were never intended to last a lifetime. The magnetic tape is fragile and degrades with time and repeated use. Any content from VHS or Beta Tapes that you want to keep should be converted to a digital format by the Digitization Experts at Two Squares, Inc. in Minneapolis. Our skilled technicians provide VHS to DVD transfer services using professionally tuned and maintained equipment.
High Quality VHS Tape to DVD Conversion
At Two Squares, Inc. our VHS Tape to DVD Conversion process utilizes studio grade equipment to ensure the best quality result. We are video digitization professionals with state-of-the-art conversion technology. If your home movie collection is recorded onto outdated VHS tapes then they are probably unavailable for your family to watch and enjoy. High Quality DVDs can be easily customized, viewed and stored for decades.
Tape Rejuvenation Process
Before VHS Tapes can be transferred to a high quality DVD the magnetic tape should be rejuvenated. Our rejuvenation process at Two Squares, Inc. can improve the quality of the tape so that the digital copy is of the highest quality possible. Our technicians perform a baking and restoration process to remove sticky residue from the tape.
Minneapolis Digitization Experts
Two Squares, Inc. provides transfer services for VHS Tape to DVD Conversion. We are Digitization Experts located in the Minneapolis, MN area. Our skilled technicians understand the process and importance of updating from VHS to DVD format to preserve precious memories before they are lost. We utilize professional grade, state-of-the-art equipment to ensure the highest quality conversion possible. Contact Two Squares, Inc. for the safest and most affordable way to save your family's home movies.
Two Squares, Inc. – Your Media Preservation Experts! Call (763) 400-4510
Email info@twosquares.com or fill out our Online Form.