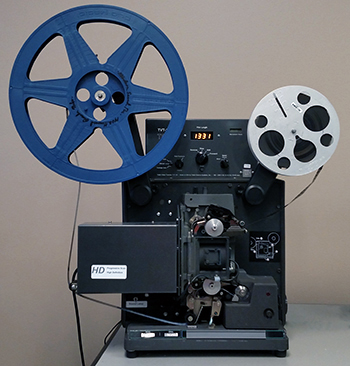 The 16mm film format turns 100 this year. This medium owes the art of cinema its freedom, which it provided to numerous international filmmakers. Even in the modern era of digital cinema and high-end camera technology, 16mm film is still one of the most exquisite and reasonably priced formats, giving ambitious filmmakers a distinctive appearance.
About 16mm Film
16mm film was first presented by Kodak in 1923 as a reliable, reasonably priced product for the home video market. Over time, it developed into a respectable, professional format that democratized movie production and distribution.
It became the preferred medium for filmmakers that are into news, documentaries, and educational content. Numerous theaters and film companies continued to operate on 16mm prints, which also provided entertainment for front-line soldiers. Long into the 1980s, the TV business distributed and broadcast many shows and films using 16mm prints. The worldwide independent and commercial filmmaking sector thrived on 16mm, which also enabled successive generations of avant-garde artists to enhance the cinematic art form.
A century later, 16mm film is still a crucial creative tool employed by numerous directors, including Todd Haynes, Wes Anderson, Joanna Hogg, Kathryn Bigelow, and many others for significant (including Oscar-winning) films.
The Development of 16mm Film
Eastman Kodak completely turned the amateur film industry on its head in 1923. Since 16mm film is made up of acetate, it is far safer to save your home movies than 35mm film, which is made of the highly combustible nitrate chemical and costs more money, and is more difficult to use. Everyone could now record important occasions at home thanks to 16mm films, which sparked a resurgence in independent filmmaking. The tale of the 16mm film's development is fascinating.
Here is a brief description of one of the most celebrated film formats.
A Tour into the History of 16mm Film
Over the past century, 16mm film has aged like a great wine. The film was originally a subpar reel that was cheaply advertised and harshly criticized by critics. However, 16mm evolved into one of the most well-liked formats.
In the beginning, Eastman-Kodak introduced 16mm in 1923 as a cheap replacement for 35mm film. In addition to marketing their brand-new Kodak camera, the firm promoted 16mm for aspiring filmmakers. However, 16mm cameras were just too expensive for the average amateur to buy and use. To put that into perspective, the Kodak-Cine camera, 16mm film, and tripod in total cost as much as the price of a used car.
The issue that emerged next was that low-budget filmmakers were reluctant to use the film since 16mm was perceived as inferior by the video production industry. In order to make the reel less expensive, Kodak reduced the frame size from 35mm, which made the image appear blurry when expanded on a large screen. As a result, the lower image quality could not be screened in theaters.
Don't underrate the importance of 16mm!
However, 16mm film did offer certain benefits! The Cine-Kodak camera was portable enough to be carried on your shoulder, and the lower frame size made the reel much lighter to transport. Customers were now able to record life outside of a still-frame film studio.
The fact that the film printed in positive was the next added bonus. Since they didn't have to change the negative into positive, inexperienced filmmakers were able to create their reels in fewer steps. Once created, the reduced size and fewer holes made the reel much easier to mount onto a projector, creating new potential for nontheatrical locations to display movies.
Most importantly, anyone could use the 16mm without fear. The original 35mm film's use of nitrate as a manufacturing process was one of its significant flaws. A very flammable foundation that, in the event of overheating or the onset of breakdown, can ignite the film. In contrast, Kodak created 16mm acetate film, also referred to as "safety film" due to its non-combustible plastic. For the first time, a non-flammable cine reel was created that was secure enough for amateurs to use and project outside theaters.
The Cine-Kodak camera was frequently used outside because of 16mm's non-combustible film and lightweight structure. Another alternative was now available for consideration with the flimsy and dangerous 35mm film. As a result, many home movie makers decided to use natural light and record the world outside their homes.
After a short period of time, Eastman-Kodak discovered that professional and business uses of 16mm film would be more advantageous than those of amateur filmmakers. The video production industry's concern that 16mm might undercut the market with cheap material played a role in the decision. However, since George Eastman, the company's founder, was a strong supporter of education, he established Eastman Teaching Pictures in 1928 in order to market 16mm educational pictures.
After Kodak introduced the 8mm film in 1932—a smaller, even more, affordable film—its shift in marketing became more obvious. As a result, 16mm became a medium for nontheatrical, professional activity including propaganda, government services, mass communication, and the military. The military's preference for the more transportable, flexible, and affordable 16mm format to record World War Two was a major factor in 16mm's commercial success.
The 16mm short information films made to raise morale and combat battle fatigue were popular among American soldiers during the World War. The term "two-hour furlough," which was commonly used, came from the fact that these screenings allowed men to enjoy their time off from war. Even though these movies were propaganda, the government still created and disseminated them to educate the populace.
Ironically, Disney ended up being one of the major distributors of these movies. Disney began creating brief propaganda cartoons as a result of the company's financial predicament. They imparted wisdom to grownups through their infamous characters on topics like paying income taxes and reusing cooking oil. Disney used 16mm film to print the cartoons in order to reduce the expense of national distribution. Furthermore, because 16mm was easier to place on projectors, cartoons could be screened in public locations like town halls, schools, and hospitals.
The Transformation of a Propaganda Prop Into a Television Standard
After the War, 16mm film was used in television production to capture exterior shots. Subsequently, documentary programs and newsreels in particular would opt to use the film because of how light the camera was.
The BBC rose to prominence in the development of 16mm for television towards the end of the 1960s. The British television firm was in desperate need of a less expensive 35mm replacement. So they collaborated with Kodak to produce a better 16mm film. Super 16mm was thankfully made available in 1969, which met their needs. The slightly bigger size of the Super 16mm film gauge helped to smooth out the grain when the images were enlarged on a wider screen.
Since the digital format was invented, 16mm film could be digitized in high definition. The BBC filmed episodes of Doc Martin, and Merlin on Super 16mm. A few well-known American television programs, including Friday Night Lights, and most recently, Scrubs, have utilized 16mm.
Finally, because 16mm has a better appearance, low-budget independent film directors use it intentionally. Most famously, Wes Anderson used 16mm to shoot Moonrise Kingdom. Carol and Black Swan received praise from critics for their use of 16mm, which gave them a grainier, darker aesthetic.
Even today, 16mm film is a format that can capture every scene, from birthday celebrations to high-end blockbusters. For a large number of people, simply holding a reel of 16mm film transports them back to the era when all of their family's home movies were recorded on those acetate strips. But 16mm film, regrettably, has a finite lifespan. Moments shot on film may be lost when the color slowly fades and the film deteriorates. Fortunately, digitization techniques can save those 16mm films before they deteriorate completely.
Would you like to convert any 16mm films you have to digital files or DVDs? Discover more about converting 16mm to digital.
Converting 16mm Film with a Professional Service
Sending your film to a specialized professional conversion service is the fastest and safest option to convert 16mm film to digital format. Sadly, people automatically assume that professional services are pricey when someone mentions them, which is not always the case.
Let's be clear about one thing. Whether you're doing it yourself or through a professional service, conversion of 16mm film to digital is not free.
As a matter of fact, DIY methods of conversion are even more expensive than hiring a professional. How?
In addition to buying or renting a projector, you will have to invest in:
High-quality recording camera
Fresh projector bulb, if required
Cleaning tools for both the film and the projector itself
By choosing a professional conversion service like Two Squares, you will be getting the following:
High Definition digitization
Physical film inspection
Cleaning
Repairs by qualified experts whenever needed (without losing footage).
Movie scene editing (We utilize top-notch tools, resulting in crystal-clear video footage).
You can count on receiving excellent service at a reasonable price from Two Squares. Additionally, when you add up the cost of conversion and the cost of digitization, you will discover that our rates are significantly lower when compared to other providers.
Why Choose Us for 16mm Film Transfer Services?
Two Squares has been expertly digitizing family recollections for several years. We employ devoted, skilled professionals that scan 16mm film at our in-house facility, unlike many companies that outsource your priceless home videos. Other companies may scan, but Two Squares gives life to memories by bringing them back to their former splendor so you can experience and pass them on to future generations.
We clean your movie film physically by hand. This is an important quality step because old movie films can be really dirty. Each speck of dirt will show up on your final image, and it can make watching your old home movies less enjoyable. Your film will be visually inspected and simple repairs like bad splices will be handled for you.
Frequently Asked Questions
Can 16mm film be digitized?
There are a few different transfer methods you can pick from to convert 16mm film to DVD and digital formats. Frame-by-Frame scanning using professional equipment is the best way to get all of the detail from your 16mm film.
Is 16mm cheaper than 35mm?
Yes. Over the years, the unique appearance and feel of 16mm film gauges, in addition to being cheaper than 35mm, have continued to draw interest from a variety of filmmakers.
What is the thickness of 16mm film?
16mm is a historically well-liked and cost-effective film format. The term "16mm" refers to the width of the film or roughly 2/3 inch. Other common film gauges include 8mm and 35mm.