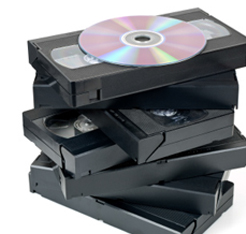 Your attic space can be helpful at times. However, it can quickly become a dark hole for old memories. There is a good chance that the majority of individuals that have years of storage built up in their attic have some sort of outdated audio or video recordings that mean a lot to them. What good is keeping this type of media stored up in your attic? Even if your memories are stored on VHS tapes or cassette tapes, images and audio of the past can be restored. If you are searching for media conversion in Minnesota you are in luck because the professional media conversion team at Two Squares is just around the corner.
Bring Back Those Memories
Serving as a Minnesota media restoration company, our dedicated and experienced staff specialize in saving memories for families across the state. Two of our most popular conversion types include:
Video – Do you have VHS tapes stacked up in your attic that track your children's childhood or even your wedding? We offer affordable video transfer services that can help you safely move all types of outdated video formats to digital. Before we begin the transfer process, all of your video will go through our rejuvenation process to make sure that the quality and sound of your video is maintained throughout the conversion. We know how important these memories are to you, which is why our attention to detail cannot be matched in the industry.
Audio – Remember your old 8 track or the stack of cassette tapes you had built up in your car? This day in age, it has become very difficult to play this type of audio. Cars these days do not even have cassette players any longer. Wipe the dust off of your aged audio and bring it down to Two Squares so that it can be converted to a digital format. Keeping up with technology can be difficult, but Two Squares makes it easy for you to bring back your old tunes today! Your old audio will sound better than ever once it goes through our high performance audio rejuvenation and conversion process.
So, if you live in Minnesota and are ready to restore old audio and video that has been sitting up in your attic for years, Two Squares is the partner for you. Give us a call today at (763) 400-4510 to learn more about our media conversion services.