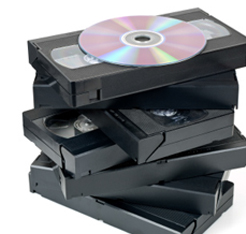 Chances are that kids who have been born over the last 10 to 15 years have never used or watched an old VHS Video or camcorder tape. With digital technology growing exponentially over the last few decades, the entire home video landscape has changed. No more do we watch VHS tapes of your favorite home movie. Instead, your family crowds around a computer, tablet, or cell phone and the home movie is played instantly. You may have been asking yourself lately, what is there to do with all of these old home videos that are stuffed in boxes, taking up useful attic space? Well, if you live in Minnesota, Two Squares, your media preservation experts have the answer. Team up with our Minnesota media conversion specialists to digitize those old memories into useful digital formats.
How We Can Help
Converting to DVD – All signs show that DVDs are here to stay. The irreplaceable family footage that you have stored on VHS, camcorder tape or even Betamax can be restored, rejuvenated and transferred over to a digital format. Video to DVD transfer is a specialty that our highly trained staff can help you with.
High Quality Results – Converting your memories to digital is just the basics of what we offer our clients. To help ensure that you receive the highest quality results available, our studio grade conversion devices are able to get rid of distorted noise and enhance the video quality as well. So, not only are you able to revisit your old memories, but you are able to share them with family and friends in a format that cannot be matched.
Multiple Copies – Once we are done preserving your home videoes, you will have the ability to create multiple DVD copies that can be distributed to other family members. If it's a funny video, maybe you can even send a copy to America's Funniest Home Video!
What Sets Us Apart
Privacy and Security – We know how much these memories mean to you. That is why your home videos stay protected the minute they arrive at our location. All tapes stay in the Two Squares office space until you are ready to pick them back up.
Affordable – Too often, companies charge insane amounts of money to restore your old home videos. Two Squares made it a point to offer the lowest prices in town so that people in our community can hang on to their precious memories from the past.
Organization – Not only do your videos get converted to DVD, but they are able to be managed and organized in ways you have never experienced. Throw away those boxes in the attic and utilize that space in a more productive manner.
So, get with the times and partner with Two Squares today for all of your home video restoration needs. If you live in Minnesota, give us a call today at (763) 400-4510 to learn more about our media restoration services.