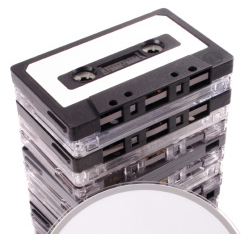 Sound is one of the most powerful sensory mechanisms for inducing a memory. If you want to bring back old memories, just listen to a song that is reminiscent of a particular time. It would be an incredible shame to lose your old audio recordings because they are recorded onto outdated technology. Professional Audio Conversion can Digitize your old audio and rescue it from obscurity. The media conversion specialists at Two Squares, Inc. really shine when it comes to Audio Transfer and Personal Audio Conversion. Our services enable Minnesota residents to enjoy older personal audio recordings on their new technology devices.
Professional Audio Conversion
Older audio and music technology has a nice nostalgia but is not very convenient to use. Your old cassette tapes, 8 track tapes, reel-to-reel and vinyl records no longer have to sit somewhere collecting dust. Two Squares, Inc. utilizes our years of experience and high-grade equipment for Professional Audio Conversion. Our audio transfer services cannot only digitize our old audio recordings we can improve the sound quality by removing annoying pops, hisses and background noises.
Digitize Your Old Audio
Digitizing outdated audio provides a very convenient way to enjoy your old audio on your computer, smart phone or tablet. The process for personal audio conversion transfers music and voice recordings from a cassette tape for example and puts conveniently at your fingertips. You can listen any time you want without worrying about scratching or damaging a magnetic tape.
When you are dealing with a tape that is over ten or fifteen years old it is best to leave it to the professionals. Two Squares, Inc. is an Audio Transfer Specialist that can digitize your old audio without risking damage to the original. Your personal recordings have never sounded so good as when they are professionally transferred to a cd or digital copy. Our basic service includes noise removal for no extra charge. We also offer extended noise reduction for an additional fee.
Audio Transfer Specialists
Two Squares, Inc. is a Minnesota based company that provides expertise for Personal Audio Conversion. We can professionally Digitize your old audio and have it sounding better than before. Our services include Professional Audio Conversion for non-copy written recordings. Bring us your outdated sound technology such as cassette tapes or vinyl records and we will provide you with expert audio transfer that allows you to listen to them on your iPhone.
Two Squares, Inc. – Your Media Preservation Experts! Call (763) 400-4510
Email info@twosquares.com or fill out our Online Form.