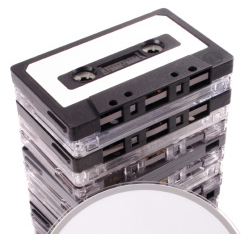 Have you ever lost a loved one and just would give anything to hear their voice again? Maybe you have a favorite record that you want to hold onto forever but nothing can play it anymore. There is something about an auditory memory that sparks a special place in our heart and can be a special keepsake for years to come. At Two Squares, your Minnesota media preservation experts, we can help you preserve your audio for generations to come.
Minnesota Audio Preservation Services
It's not like you can find a walkman at Target anymore. If you want to hear something from the past, you're going to have to find it on a compact disc or MP3 player. If you want to relive those old tunes or listen to a voice of a past relative, you need our technology to get you there. At Two Squares, we specialize in converting outdated audio formats into today's latest technology. Our audio tape transfer is high quality and guaranteed to have crystal clear results, without breaking the bank. Cassettes, records, reel to reel, and so much more can be converted into anything you want here at Two Squares.
Preserving Your Audio
If you have kids, then you must know what it's like to listen to a song over and over and OVER again. Once you convert your favorite audio moments into a digital format, you can listen to them as many times as you want without worrying if you are going to scratch, skip, or damage the product. Our professional grade equipment will smooth out any imperfections that may be on the tape and allow you to enjoy the audio that you hold so dear to your heart.
Quality Craftsmanship
When we decided to offer Minnesota audio preservation services, we knew that we had to be the best and offer the highest quality services. With our extensive experience, equipment, and restoration process, your old audio sounds will be better than you've ever heard them before! All of our magnetic audio tapes go through our rejuvenation process to ensure the best possible starting point for conversion. We then complete a digital noise removal process so that the background noises will not take away from the quality of the sound. Once the audio tape transfer is complete, it will be yours to enjoy forever!
So if you live in or around the state of Minnesota, come to the best media preservation experts in the area. Call Two Squares today at (763) 400-4510 or email us at info@twosquares.com.