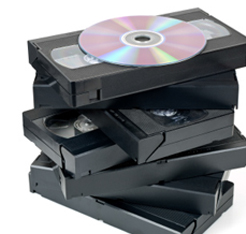 The many hours of footage that most Minnesotans have stored on VHS and Camcorder Tapes alone is staggering. What many people didn't, but now are beginning to realize is that magnetic tape deteriorates over time and all of those precious memories can be lost forever. The best solution for preserving these memories is Digital Conversion. Two Squares, Inc. provides Professional Conversion Services right in Brooklyn Park, MN. Our Affordable Media Transfer Services are very convenient assuring. We painstakingly go through a process that ensures the best Minnesota Digital Conversion Services.
Professional Conversion Services
Do you or someone you know have a collection of Cassette Tapes, Betamax or VHS Tapes that can no longer be enjoyed due to technological changes? Technology is great but keeping up with the latest advancements can be very challenging and expensive. Professional Conversion Services at Two Squares, Inc. are backed by our many years of experience and professional grade equipment. We have the knowledge and capabilities to convert anything from Polaroid Snapshots to 8mm Home Movies to high quality Digital output.
Quality Digital Conversion Services at Two Squares
Using Studio Grade Equipment and years of experience, technicians and Two Squares, Inc. can convert content on your outdated formats to crisp digital output. Your valuable recordings and images are safe with us. Every precaution is taken to make sure that our clients are happy with our work.
Audio Conversion (Cassette, Vinyl, Reel to Reel)
Magnetic Tape Restoration and Baking (both Audio and Video tapes)
Affordable Media Transfer Services
Minnesota residents are known for being very practical and intelligent. It simply makes sense to bring your valuable tapes, slides, film and photos to a company that provides Top Quality and Affordable Media Transfer Services. Taking your family treasures to a big box store can be risky. Store employees most likely do not have the training and expertise of Two Squares, Inc. technicians. Our prices are very competitive and we provide the quality that others cannot.
Minnesota Digital Conversion Services
Digital Conversion Services at Two Squares, Inc. is so much more than merely dubbing a cassette tape or using a home scanner. Our technicians utilize Studio Grade Equipment to provide the Highest Quality Possible for our Brooklyn Park, MN clients. We provide Professional Media Transfer Services that are Very Affordable. Bring us your photos, slides and tapes and finally be able to enjoy them once again with a copy on your computer, smart phone or flash drive.
Two Squares, Inc. – Your Media Preservation Experts! Call (763) 400-4510
Email info@twosquares.com or fill out our Online Form.