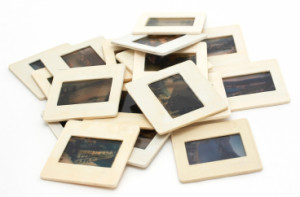 Preserve your Slide Collection by having them converted to Digital Photos or DVD Slide Show. You never have to store or maintain bulky 35 mm slides again. The best part is that you can choose between Standard Quality and Enhanced Quality 35 mm slide conversion. Two Squares, Inc. is a team of media presentation experts with the best equipment and experience to provide St. Paul, MN clients with the best results. Our services are recognized by Photographers, Graphic Artists and Photo Buffs for the excellent quality and affordability that we provide. Your image collection has never looked so good.
Safe and Secure 35mm Slide Conversion
Before digital photography became the norm, 35mm Slides were very commonly used by professionals. Many photographers have an extensive 35mm Slide Collection that is taking up valuable space. Graphic Artists have also relied on slides for cataloging image collections. Slides are bulky to store and can be easily damaged if not cared for properly.
The days of lugging around a slide projector are over. Digital images can be conveniently stored and transported via your laptop or burned onto a DVD for easy viewing on a large screen. Two Squares, Inc. is a trusted source for 35 mm slide conversion because of our skills, equipment and dedication to quality. Your slides will remain Safe and Secure as they will never leave our facility in the St. Paul, MN area.
Standard Quality | High Quality | Enhanced Quality
When it comes to choosing the end quality of the slide conversion we ask our clients to think about how they plan to use the images. Our technology allows you the freedom to choose between Standard Quality, High Quality and Enhanced Quality conversions.
Standard Quality Process is a great Low Cost option for large collections of 35 mm slides. This process scans images very quickly. After digitization of the image, our technicians can correct color, lighting and contrast.
High Quality Process scans the image at 1800 dpi which is plenty for viewing on a High Def TV or enlarging up to 5×7 size print.
Enhanced Quality Process is the highest quality available at 3600 dpi or 6400 dpi. At this resolution images can be enlarged without pixilation.
Slide Conversion Experts
Two Squares, Inc. provides the Highest Quality 35 mm Slide Conversion at affordable prices. Our equipment enables our expert technicians to produce stunning images from your slide collection. St. Paul, MN graphic artists and photographers trust our expertise and reliability for enhanced quality digital conversions.
Two Squares, Inc. – Your Media Preservation Experts! Call (763) 400-4510
Email info@twosquares.com or fill out our Online Form.